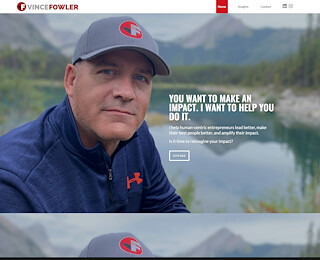 Vince Fowler is a preeminent Calgary business coach, retreat and workshop facilitator, and highly sought-after TEDx speaker. He offers the best business coaching and training to business owners and entrepreneurs.
Top reasons to sign up for Vince's business coaching in Calgary 
Vince is a skilled orator and business consultant, and he has played an integral role in several budding entrepreneurs' journeys towards becoming leaders. He empowers and inspires entrepreneurs to do exceptional work by helping them uncover their hidden strengths and weaknesses.
He pushes his clients to step back and reflect after every day, week, and month to discover new insights, analyze problems, and helps them create a plan for the future. Vince is also an expert in reinforcing self-confidence, positive affirmation, ambition, will power, and perseverance in entrepreneurs and paves the way for their long-term success.
How to pick the best business coach?
If you wish to reap magnificent results from working with a business coach, you must pick the right person to guide you. For starters, be clear on what you wish to achieve by working with a coach. Based on your goal, choose a consultant that specializes in that particular aspect/goal/field and can support you in attaining your goals. Choose an expert that has a knack for helping entrepreneurs get out of their rut or roadblock.
A coach must help you think and do things creatively and inspire you to brainstorm new ideas. Besides, it is important to choose a coach in your specific niche to provide you with valuable suggestions and advice relevant to your field of business.
Three ways in which an executive coach can make you more successful
When you attend an executive coaching session with an open mind and a genuine longing for growth, you can reap plenty of benefits. Here are three ways in which an executive coach can make you more successful:
See yourself more clearly – Several types of research and studies state that human beings are incapable of seeing themselves accurately. This is exactly why you need the help of a good coach that can gather inputs on you and provide you with details of your strengths, weaknesses, and growth areas.
Learn how to respond – While everybody has their own set of capabilities and responses, it takes a professional coach to use your strengths to mold you into a leader. A coach can help you identify and spot potential opportunities, provide you with tips on how to respond to various business situations, and equip you with essential skills to become a successful entrepreneur.
Achieve your goals – A coach will help you set clear, realizable, and audacious goals, and help you with strategies on how to achieve them. A leadership coach will continue to be your support system in your journey and will help you with valuable guidance and motivation to keep progressing in the right path.
For help with developing your business, call +1-403-874-7376 today. Vince Fowler is a top Calgary business coach with several positive reviews from successful entrepreneurs across the world to vouch for the quality of his guidance and subject-matter expertise. Reach out to us today to create an impact in the world with our exceptional business coaching in Calgary.
Vince Fowler | Entrepreneur & Business Coach | Facilitator & Speaker
+1 403-874-7376
909 10 Street Southeast
Calgary
AB
T2G 0S7
CA